Martin runs the awesome little Print and Play Hideaway group on Facebook and is, as far as I can tell, the king of table presence when it comes to PNP's. Why? Let's walk through some of his great builds and a few of the techniques that he uses.
---
Tokens
I like the thick, clean tokens in his Bot Factory build (shown above). You can also see his work below in the tokens that he made for Age of Comics. He prints onto sticker paper for many of his builds, then pastes it onto chipboard. He walks through the process in this YouTube short and compares cutters here.
For this game, he used "thrifted Scrabble tiles" (brilliant). He covers his work with Rust-oleum Satin Clear Enamel to protect the finish.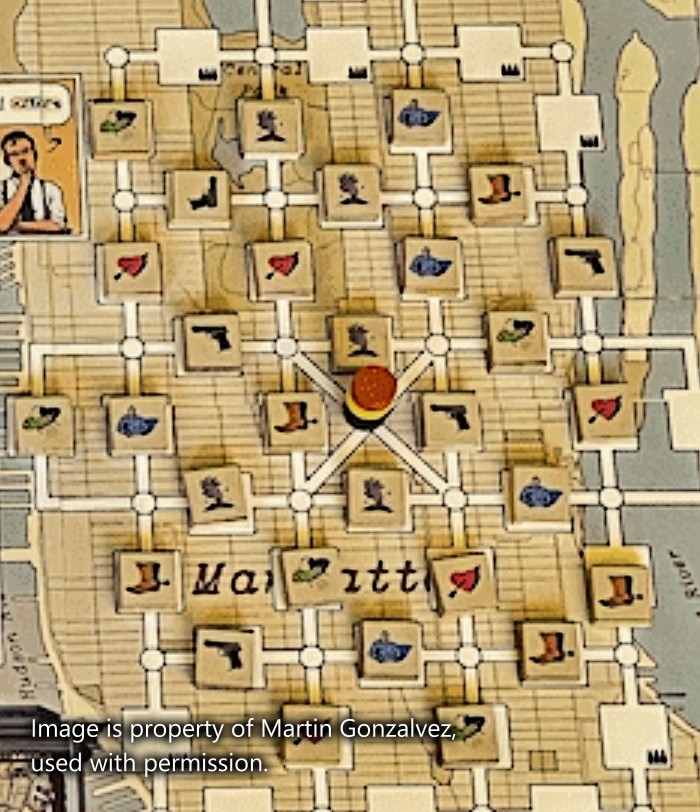 ---
Big tiles
In addition to the little tiles above, the game requires some bigger tiles displaying pictures of comics. For these, Martin acquired some little rectangles of vinyl flooring. His favorite glue is 3M Super 77 spray glue, which bonds to a variety of materials.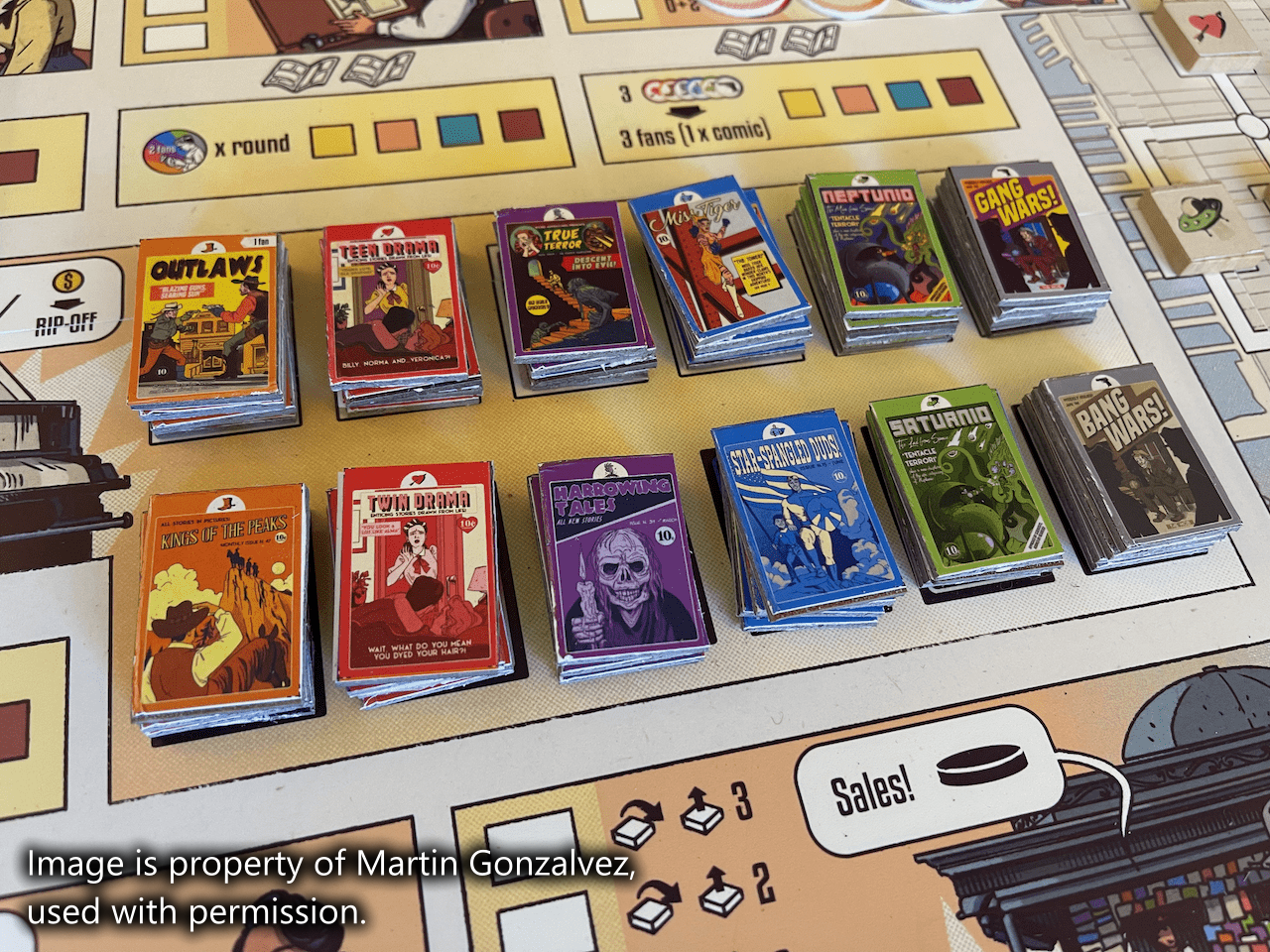 ---
3D-Printed Miniatures
Martin received a MonoPrice 3D printer in 2021, which he's put to very good use. I think his first project with it was the build of Fantastic Factories, but he's been using it on several builds since. I really like the robot-ish meeples that he printed and repurposed for the Bot Factory build.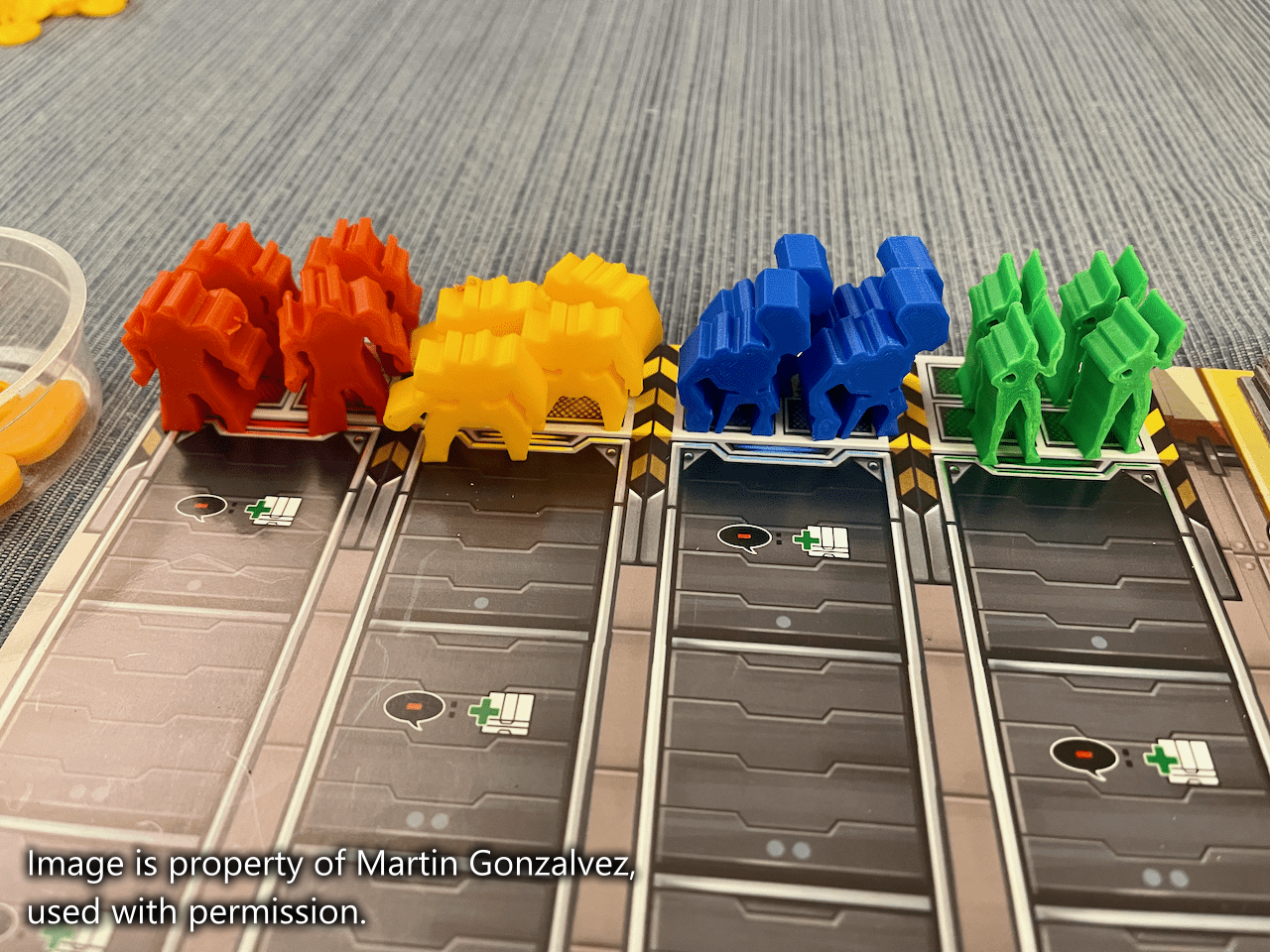 ---
Standees
One step up from meeples is standees. Martin has a whole video about how to make standees. One approach, used in Escape From Innsmouth below, is to create little inserts in plastic holders like those below. Another approach is to print onto bits of vinyl flooring clipped into metal binder clips. The video walks through his cutting tools, including a "chomper" used to make nicely rounded edges on vinyl.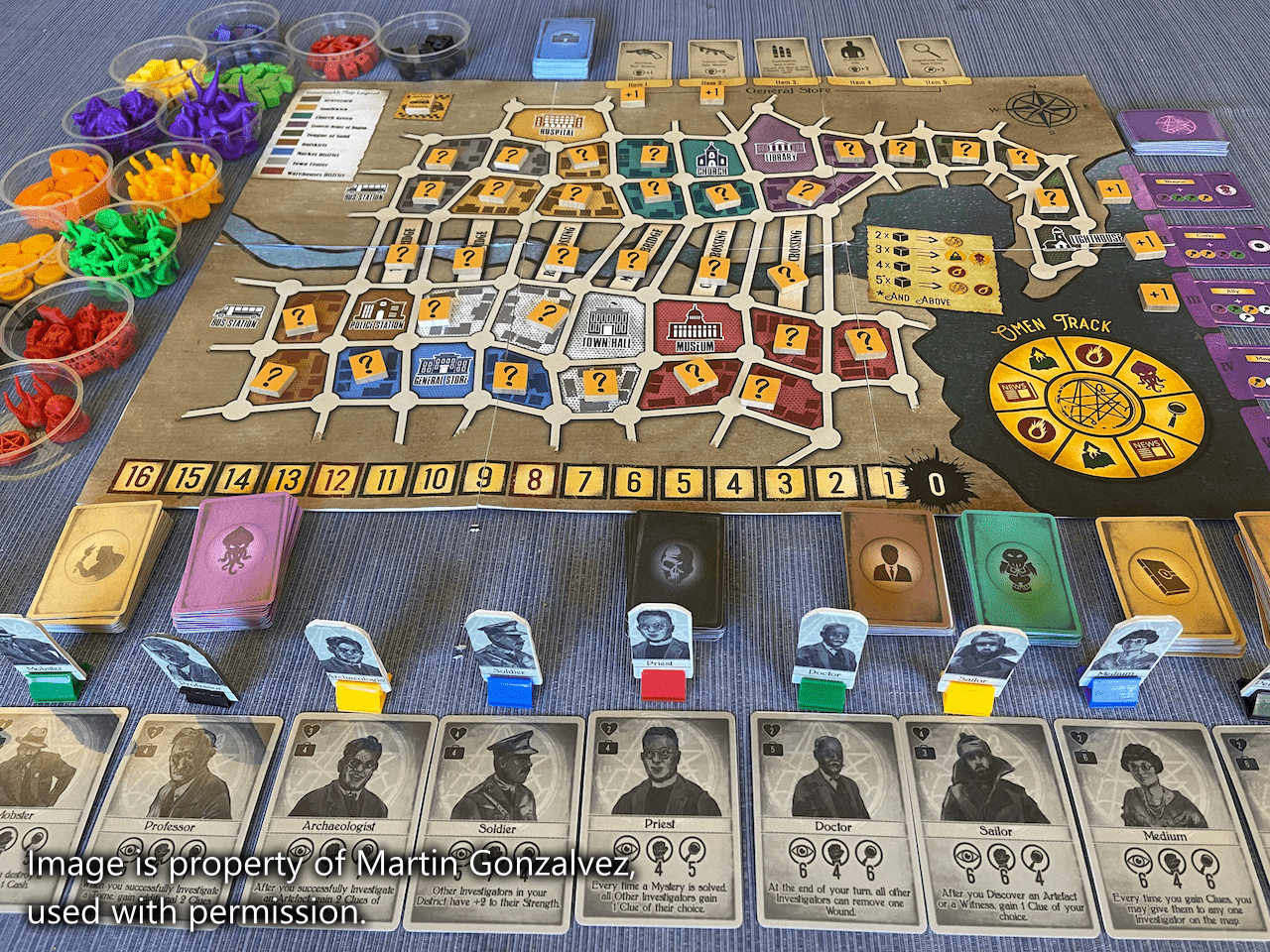 ---
Six-Fold Game Board
Escape from Innsmouth, above, also includes a 6-fold game board. As explained in a handy video, Martin used "24 pt BCW magazine boards" for the backing in this case. He glues together a couple of these boards to make the board thicker. The tricky part of joining the edges requires a tape, for which he uses duct tape but also mentions book-binder's tape.
---
Custom Dice
Martin is really handy with creating custom dice, too, as in Buddy Cop below. He uses sticker labels for this, firmly sticking them directly onto dice blanks. He doesn't mention any further steps, but I could see carefully spraying (and drying) each face with the Rust-o-leum for protection.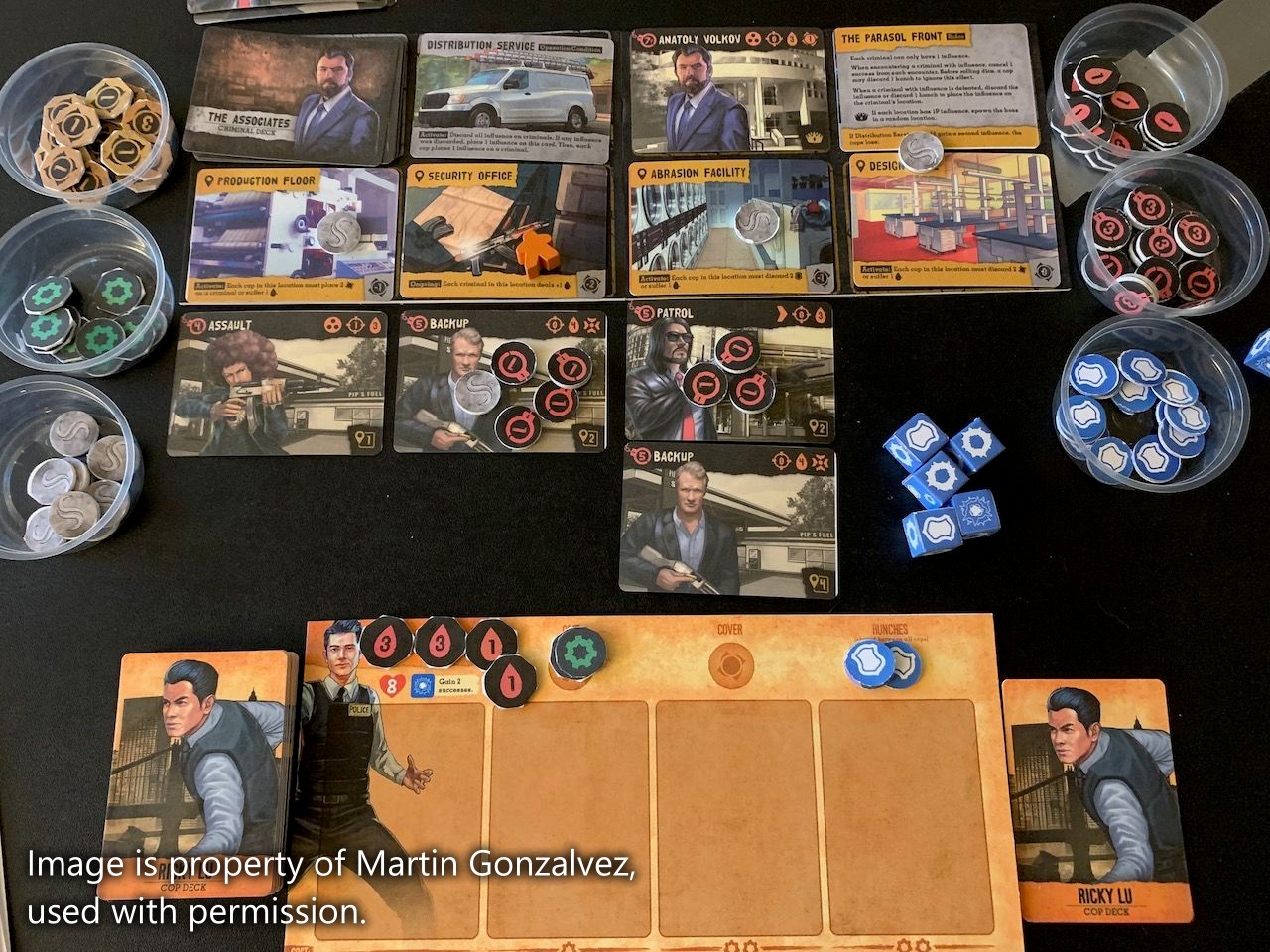 ---
Closing Thoughts
Having made quite a few physical game prototypes myself, I most admire Martin for his clever and thoughtful use of materials and for his meticulousness in carefully cutting and assembling pieces. In doing so, he shows an appreciation for the effort that the game designers and developers put into the creation of compelling components. And he achieves an enviable level of table presence as a result!
I asked my fellow groupies at the PNP Hideaway for their "top tips at achieving awesome table presences with a PNP." A few of the responses:
Chris suggested folding pieces to create 3-dimensionality.
Jonata said he uses polymer clay to create tokens.
Marco commented, "Brilliant colors and a f***** awesome foldable board."
Jeremy suggested nice "theming on the player aid sheets" and using thick paper with sleeves.
And Rich said we should simply be Martin Gonzalvez. Couldn't have said it better myself.
---
Notes to Self
Key non-obvious materials

Rust-oleum Satin Clear Enamel

3M Super 77 glue
Book binder's tape
Sticker paper
Photo paper
Magazine board
Vinyl flooring pieces
Scrabble tiles

Key non-obvious tools

Fiskars rotary trimmer (most accurate)

Fiskars Surecut deluxe paper trimmer

(most easy but dulls)
Sunstar Stationery Corner Cutter Kadomaru Pro

Relevant channels for reference