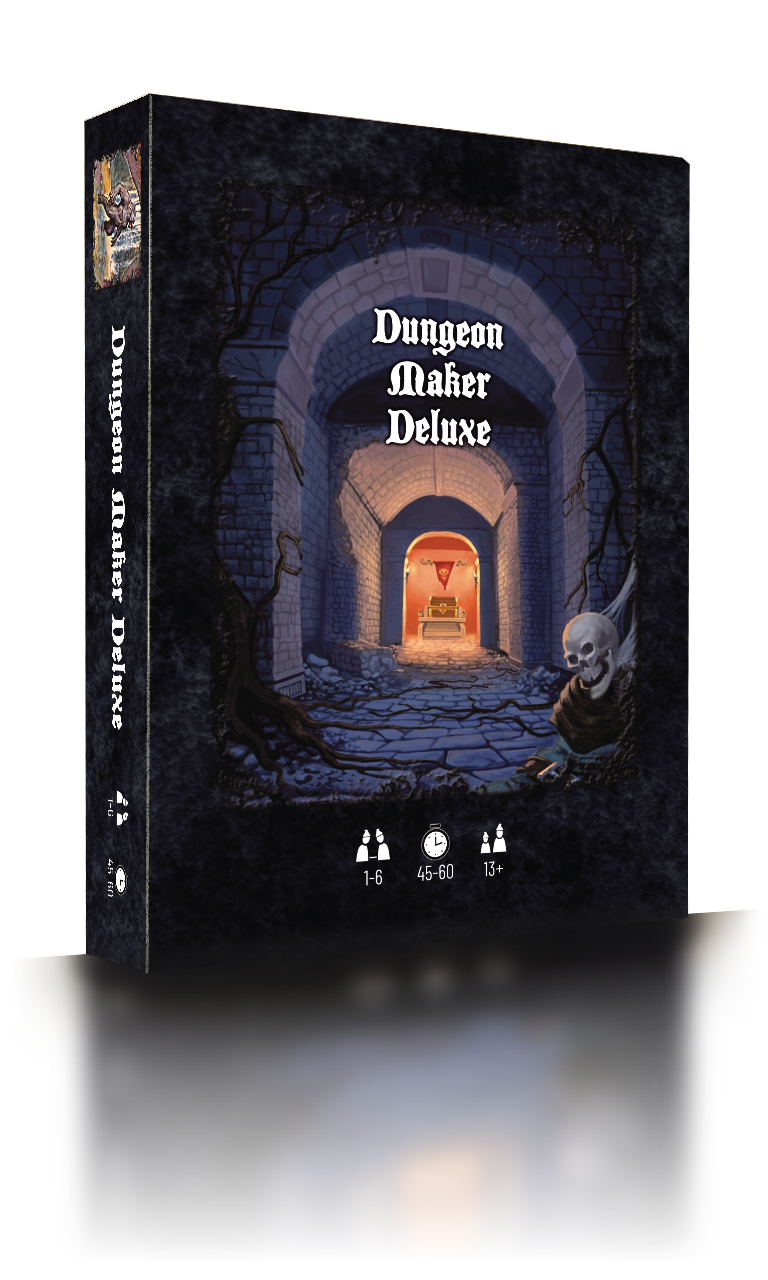 Dungeon Maker Deluxe
Design by Ali Mahmood and Chris Scaffidi
Public domain and CC art adapted by Chris Scaffidi;
Cover art by Gibbs Santos
Published by RnC Games and Fervent Workshop
---
A draft-and-write dungeon-builder and dungeon-crawler
---
1-6 players / Ages 13+ / 45-60 minutes
---
---
Get invitations for PNP playtests via the monthly newsletter…
You and your fellow wizards have a bad habit of pilfering each other's dungeons. However, this time you're prepared! You've fortified your dungeon with a bestiary of nasty creatures. Imps. Dragons. Werewolves. Each with their own magical powers, ready to pounce.
You leave them on guard as you depart for your own dungeon-crawl, only to discover: your fellow wizards have done the same. And they have a cave troll.
Synopsis
The card-drafting tension of 7 Wonders meets the grid-coverage puzzle of Tapestry. But instead of building a civilization, you fortify your dungeon's lairs with minions and fantastic beasts, then crawl an opponent's dungeon. If you score the most points for fortifying and capturing lairs, you'll earn a reputation of infamy as Dungeon Master!
Components
The Kickstarter edition includes:
12 unique, dry-erasable dungeons
12 unique, dry-erasable characters
108 action cards (6 copies of 18)
6 reference cards
6 dry-erase markers
1 rulebook
1 cardboard box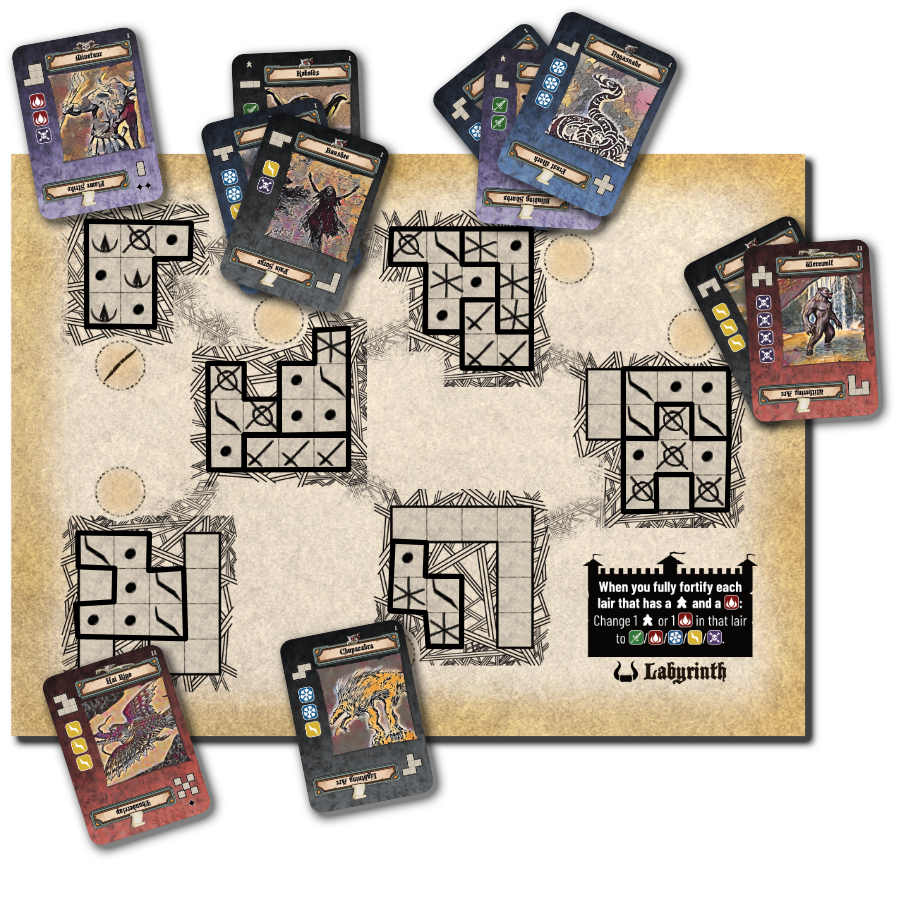 Published
RnC Games and Fervent Workshop jointly own Dungeon Maker Deluxe. All use of mutual assets are with permission. RnC Games Kickstarted the print-and-play version, while Fervent Workshop sells the physical editions.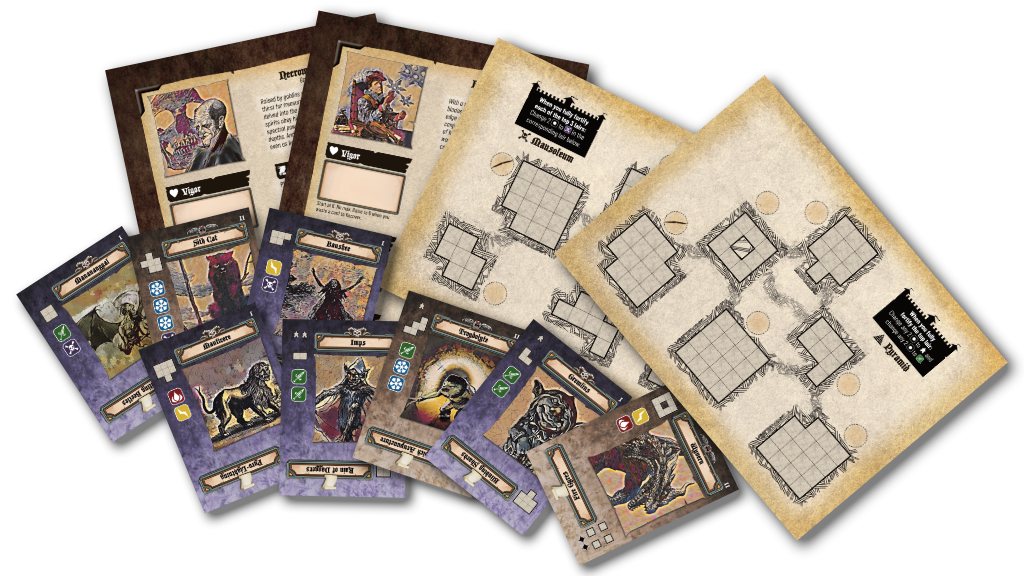 Preview article by Churape Reviews.
Acknowledgments
We created placeholder art for the Kickstarter campaign by adapting miscellaneous Creative Commons and Public Domain work provided by the following people:
Alchemist – Arthur Rackham, Alchemist pot – Ashad Mallick, Artificery – Lorc, Banshee – R. Prowse, Beast du Genaudan – Ancalagon, Beast Summoner – Giuseppe Arcimboldo, Blade Conjurer – Francesco Buoneri, Blade Conjurer stars – OpenClipart-Vectors, Cercopes – Arent van Bolten, Chimera – Frédéric Chassériau, Chupacabra – Alvin Padayachee, Clairvoyant – John R. Neill, Crone – Arthur Rackham, Dagger icon – Lorc, Dark Gnomes – Arthur Rackham, Dervish – Curzon Robert, Dervish tornado – AlexAntropov86, Donjon – Lorc, Dragon – Friedrich Johann Justin Bertuch, Duendes – Leonardo Alenza y Nieto, Fire Mage – Min Zhen, Fire Mage flames – Dane Deaner, Fire Mage nuke mask – Lorc, Fire Pits / fire icon – sbed, Flaming Pegasus – Arthur Rackham, Gremlins – Pawel86, Griffin – Jerimee, Grunge texture – TheDigitalArtist, Hai Riyo – Charles Gould, Harpy – Melchior Lorch, Hellhound – Vasilios Markousis, Hippogriff – Wiseworm, Hobs – Arent van Bolten, Hydra – John Vinycomb, Ice Crypt / snowflake icon – Lorc, Ice Queen – Arthur Rackham, Ice Queen snowflakes – Darius Cotoi, Imps – John D. Batten, Jabberwock – Peter Newell, Kobolds – Jean-no, Kylin – Piotr Siedlecki, Labyrinth – Lorc, Lightning icon – sbed, Lord of Lightning – Vera Gentinetta, Mananangaal – Gian Bernal, Manticore – Johannes Jonston, Material for card frames – Ravenmore, Material for card ornament – Alyzah K, Material for card ornament – Carlos Felipe Ramírez Mesa, Material for card ornament – Donovan Reeves, Material for card ornament – ELG21, Material for card ornament – huangshunping, Material for card ornament – OpenClipart-Vectors, Material for card ornament – Ravit Sages, Mausoleum / necrotic icon – Lorc, Minotaur – LadyofHats, Mistress of Dreams – Thomas Nordwest, Muki – Arthur Rackham, Nagasnake – Dugald Stewart Walker, Necromancer – John R. Neill, Necromancer skull – Michael Förtsch, Oubliette – Delapouite, Pyramid – Delapouite, Redcaps – Armandeo64, Rulebook dragon illustration – Cbaile19, Rulebook wizard illustration – pendleburyannette, Salamander – Arthur Rackham, Sith Cat – Arthur Rackham, Spectre – Arthur Rackham, Star Chamber – Lorc, Stronghold – Delapouite, Subterranean Zoo – Lorc, The Sluice – Lorc, Thunderbird – LadyofHats, Time Bender – Nicholas Roerich, Time Bender hourglass – Nathan Dumlao, Troglodyte – Piotr Siedlecki, Troll – Arthur Rackham, Werewolf – Lew Delport, Wyvern – Piotr Siedlecki, and Zombie Master – Arthur Rackham
In addition, the cover art was adapted from commissioned work by Gibbs Santos. Although no art was used from the following sources, they heavily influenced our graphic design: Dungeons Of by El Guaja, and Fading Reign by Michael Prihoda. The heading font is Black Castle MF by Rick Mueller, and the body font is Barlow Condensed by Jeremy Tribby.
Thank you to the dozens of people who playtested What Lies Beneath in 2022-2023. Special thanks to those who played many times, including Don, Betsy, Monica, Daniel, Sam, Trevor, Josiah, Becca and Jacob.