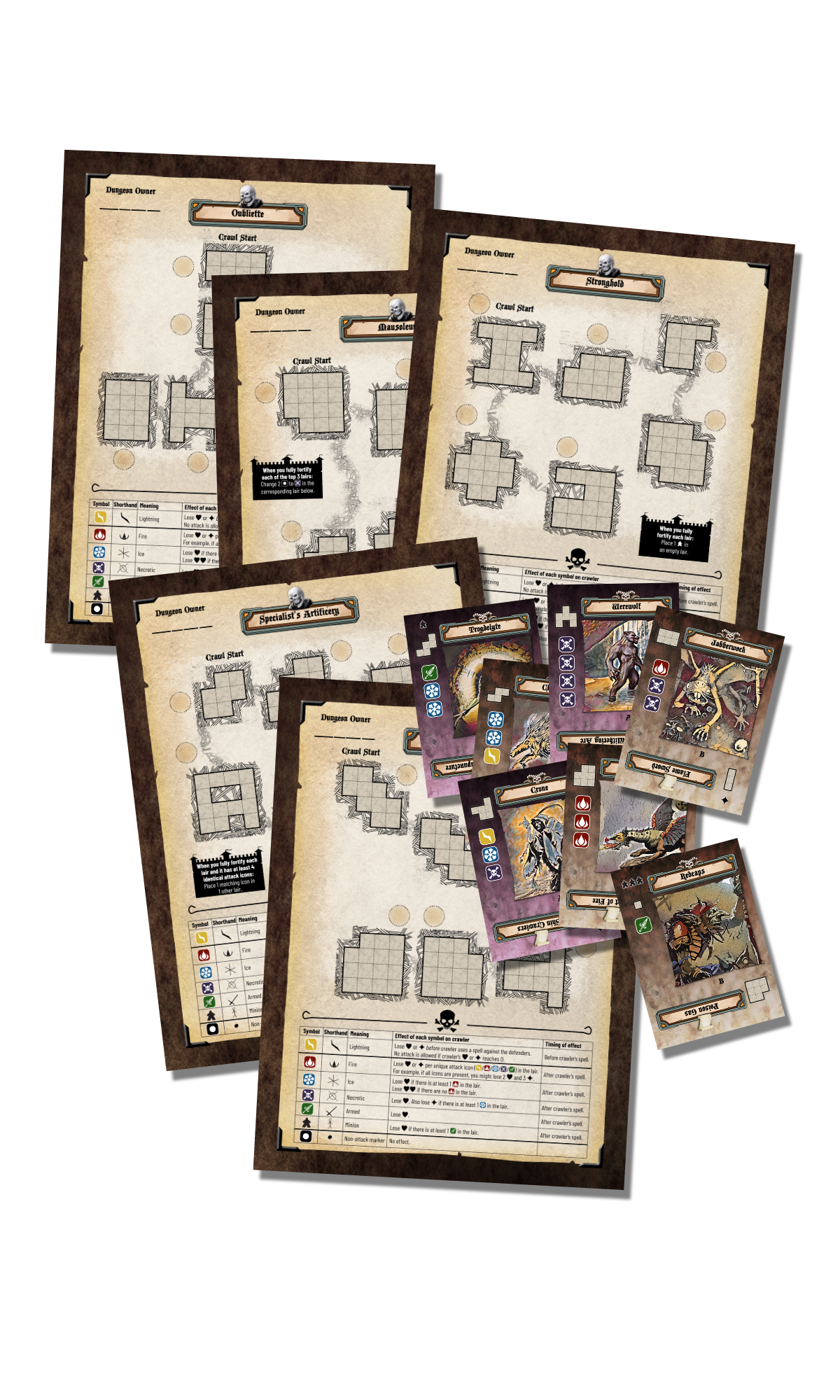 Dungeon Maker Deluxe
Design by Ali Mahmood and Chris Scaffidi
Public domain and CC art adapted by Chris Scaffidi;
Cover art by Gibbs Santos
Published by RnC Games
---
A draft-and-write dungeon-builder and dungeon-crawler
---
1-8 players / Ages 13+ / 30-60 minutes
---
---
Get invitations for PNP playtests via the monthly newsletter…
You and your fellow wizards have a bad habit of pilfering each other's dungeons. In this draft-and-write game, you'll fortify your dungeon's lairs with defenders, then crawl an opponent's dungeon. The game ends for everyone when a player captures all their opponent's lairs, or it ends for you when you run out of cards. Score victory points for fortifying and capturing lairs. If you finish with the most points, you become the Dungeon Master!
The card-drafting tension of 7 Wonders meets the grid-coverage puzzle of Tapestry. But instead of building a civilization, you fortify a dungeon — and then invade your opponent's!
Components
Kickstarter backers will tentatively get free print-and-play expansion content, such as additional Dungeons, Characters, Creatures and engine-builders because the campaign reached its $250, $500 and $100500 stretch goals. Components will ultimately include:
12 unique dungeon sheets
12 unique character sheets
1 rulebook
36 creature cards
TBD cards for upgraded spells
Publication Details
RnC Games owns Dungeon Maker Deluxe. All use of their assets on this website is with permission. RnC Games will handle print-and-play versions and has granted a license for Fervent Workshop to sell physical editions of the game in the future.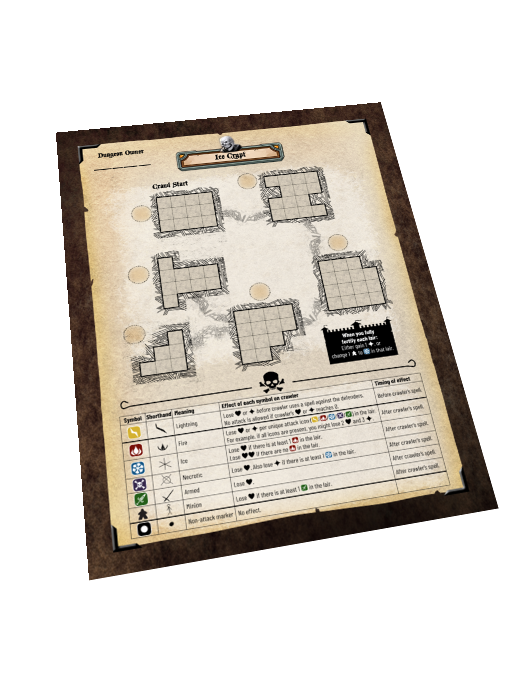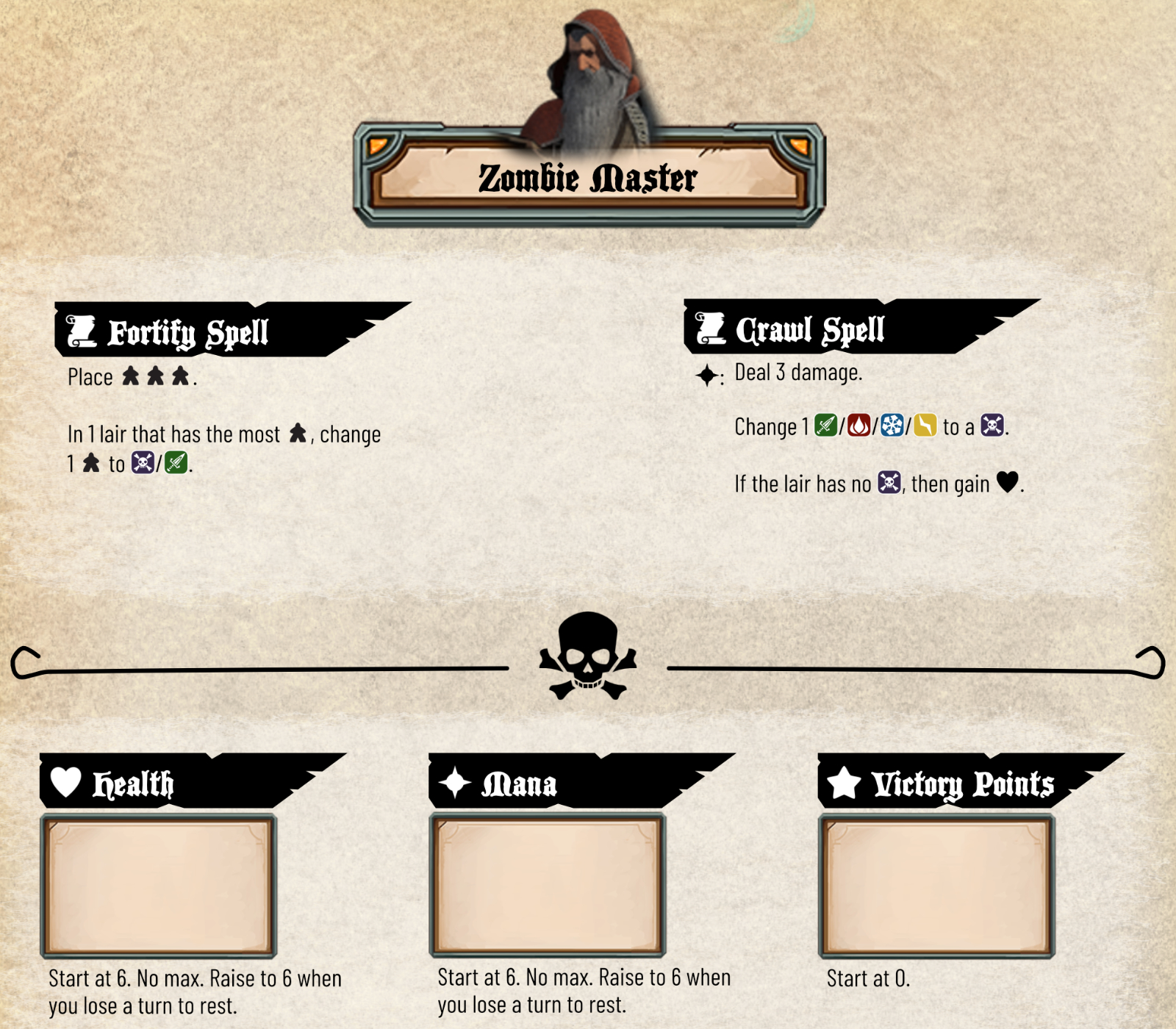 Acknowledgments
We created placeholder art for the Kickstarter campaign by adapting miscellaneous Creative Commons and Public Domain work provided by the following people: R. Prowse, Nouvion, Alvin Padayachee, Friedrich Johann Justin Bertuch, JNL, Melchior Lorck, Shizhao, Vmarkousis, Wiseworm, Peter Newell, Gian Bernal, Johannes Jonston, Dugald Stewart Walker, Armandeo64, John Dickson Batten, Pawel86, LadyOfHats, Jerimee, Lew Delport, Leonardo Alenza, Arent van Bolten, Charles Gould, Gallica Digital Library, Piotr Siedlecki (Kylin, Trogdolyte, Wyvern), Arthur Rackham (Spectre, Sith Cat, Salamander, Flaming Pegasus, Crone, Troll, Dark Gnome, Muki), Ravenmore, Lorc (dagger, snowflake, skull/bones, triple-corn, tied-scroll, black hand, falling-blog, haunting, magic-swirl, deadly-strike, rogue, andromeda-chain, disintegrate), Sbed (fire, lightning), Andy Meneely (riposte), Delapouite (centaur heart, Qaitbay citadel, Elysium shade, dwarf face, spiked shield), OpenClipart Vectors (skull with wide bones, scroll), Pepijn Poolman (Spell book, Elven castle), pendleburyannette, ELG21, and TheDigitalArtist. In addition, the cover art was adapted from commissioned work by Gibbs Santos. Although no art was used from the following sources, they heavily influenced our graphic design: Dungeons Of by El Guaja, and Fading Reign by Michael Prihoda. The heading font is Black Castle MF by Rick Mueller, and the body font is Barlow Condensed by Jeremy Tribby.