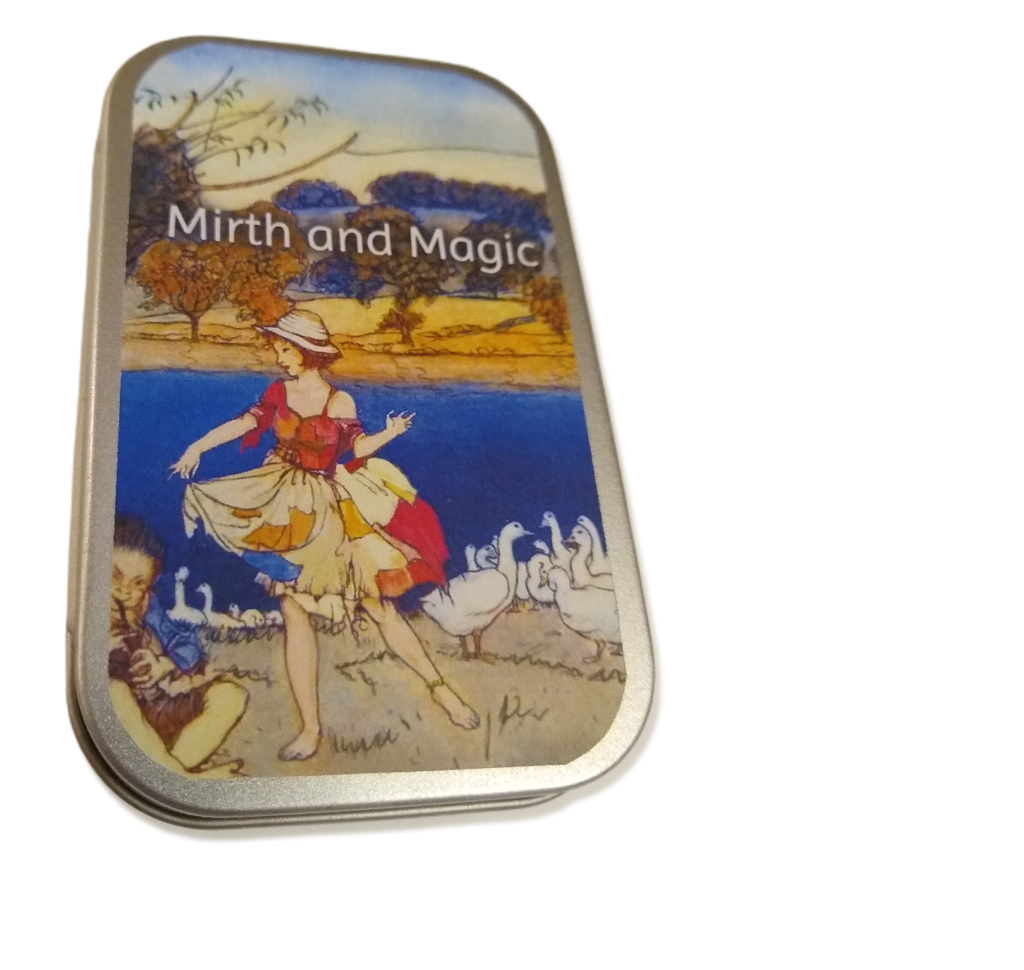 Mirth and Magic
Design by Chris Scaffidi & Jack Rosetree
Public domain art by Arthur Rackham, adapted by Chris Scaffidi
---
3 light-strategy fairy-themed games in 1 portable tin
---
2-4 players / Ages 9+ / 10-40 min. depending on the game
---
This pocket-sized set of 32 lavishly illustrated cards and 8 tokens presents the magic and mystery of Fairyland through 3 fairy games—with the potential for many more to follow.
WELL-SUITED TO INNOVATE: Half the cards have two suits, which facilitates games with unique suit-crossing mechanics.
ENCHANTING ART: Cards showcase meticulously retouched work from the Victorian Golden Age of children's book illustrations.
BRING THE MAGIC: The set conveniently travels in a mint tin or 54-card tuck box for family vacations or for an evening out with friends.
Featured Components
36 fairy-themed cards
8 tokens
1 tin box
---
3 Fairy Games in 1
Game #1: Fairy Parade
Uno-like with tokens to get out of trouble, 2-4 players, 10-20 minutes, ages 9+
Onto a pile of cards, play a card that matches the rank of the top card. Or, play a card that matches one of the top card's suit(s) and is higher rank. Or, take the top card and give a token to another player. Or, flip the card so that the next player may play any card. When you play your last card, you "go out" and score big points. Players also score for each token left.
---
Game #2: Party Season
Blackjack 21 with communal bust piles, 3-4 players, 15-30 minutes, ages 10+
Each turn, all players play 1 card face-down. There will be 4 parties—one per suit—and the card you play indicates which parties you attend. Simultaneously flip cards face up and total the cards of players who attended each party. Face cards have special effects. Any party that gets too big busts. To score, attend the biggest party that doesn't bust!
---
Game #3: Charmed Life
Trick-taking with upgradeable cards, 2-4 players, 20-40 minutes, ages 10+, rules
The trick leader plays a card. Each player plays a card, following the leader's suit if possible. If you follow suit and play a dual-suited card, you may upgrade your card into a trump by spending a token. The highest card takes the trick (and any tokens spent), while determining the next trick's leader. Score cards and tokens after each hand.
---
Status: Late design
Mirth and Magic will likely kickstart in 2024. I'm deciding whether to design any more games that use this set, and whether to tweak the UI.